The Stone Meadows Neighborhood Association (SMNA) is on Madison's far southwest side.
Our neighborhood association consists of approximately 1,200 residences. Its area is identified by the following borders:
South of County Highway PD (McKee Road)
East of Maple Grove Drive
Northwest of U.S. Highway 151 (Verona Road)
As of January 2022 redistricting, the neighborhood remains in District 7. Here is the City's page for our district, with an alternative map:
https://www.cityofmadison.com/council/district7/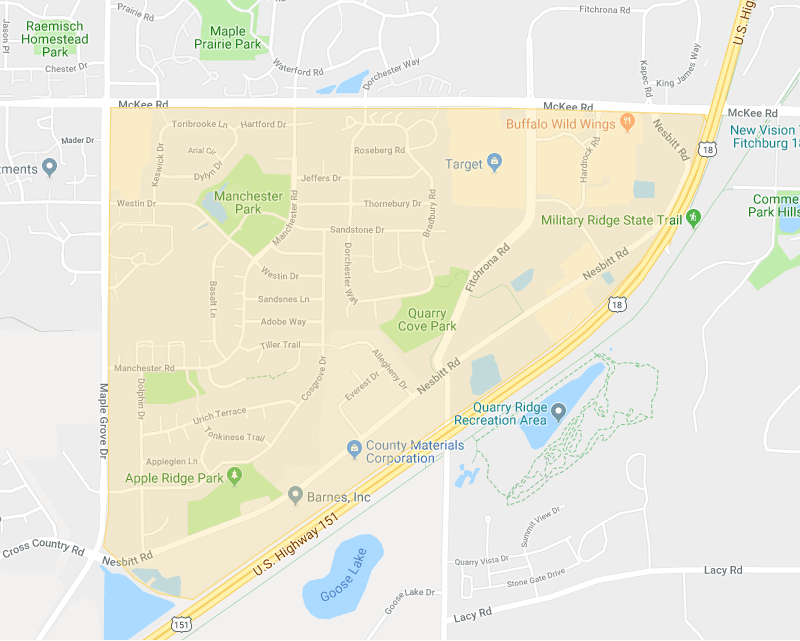 There is a mix of residential housing (including single-family, condos, duplexes, and apartments), businesses, two city parks, a conservancy area, St. Mary's Nursing Care Center, and Capitoland Christian Center.
César Chávez Elementary School is located on the western edge of our neighborhood.
Chavez is Madison's newest elementary school built in over thirty years.
Stone Meadows has abundant access to natural and recreational resources:
SMNA's nearby off-leash dog parks include Dane County's Badger Prairie (11 acres) and Prairie Moraine (79 acres).
Human residents can relax and play at nearby City parks:
Plan a different bike ride with our Interactive Low-stress Bike Map or the Printable Map (Front/Back). The City allows for certain conditions for biking on sidewalks, although there is prevalent access to bikeways.
Walk and Hike
Just one mile west of our neighborhood is the State of Wisconsin's Ice Trail Junction.
Neighborhood Association Meetings
Held on the second Monday of odd months
Currently, meetings are schedule as-needed and run through Zoom. Please contact the neighborhood association to confirm the meeting date, location, and time.
Officers:
President:
[Position Open]
president@smna.org
Vice President / Treasurer:
Kenneth Brown
608-209-0240
vice.president@smna.org
treasurer@smna.org
Secretary:
Dan Gruett
608-957-9446
secretary@smna.org
Architecture Committee:
architecture@smna.org
Business Liason:
Jeff Statz
business@smna.org
Webmaster:
Jeff Statz
webmaster@smna.org
Block Captain:
Position open. We're glad to have your help in optimizing our neighborhood! Help us make positive changes for the benefit of your family and your neighbors.
Please drop a line to Ken, Dan, or Jeff if you'd like more information.