The Stone Meadows Neighborhood Association (SMNA) is on Madison's far southwest side.
It covers an area south of County Highway PD and east of Maple Grove Road.  See the Google Maps view of the neighborhood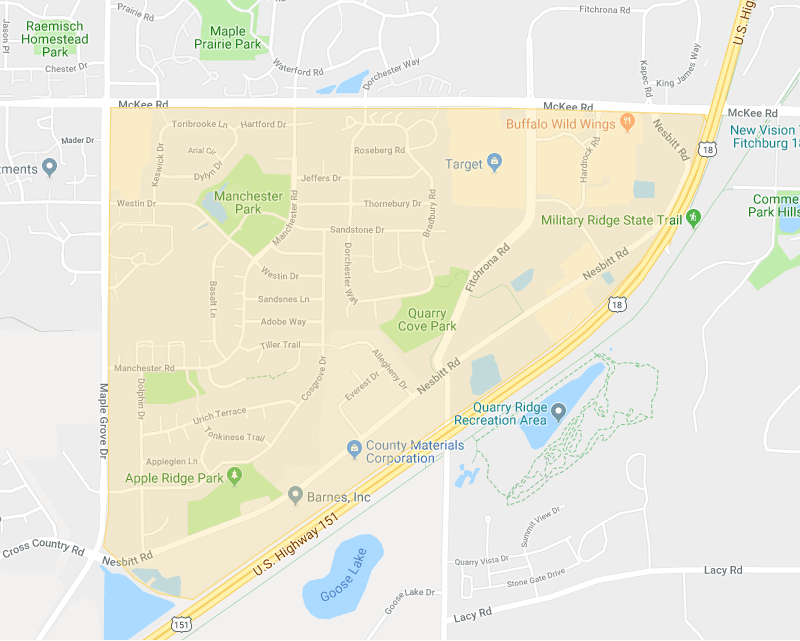 There is a mix of residential housing (including single family, condos, duplexes, and apartments), businesses, two city parks, a conservancy area, St. Mary's Nursing Care Center, and Capitoland Christian Center.
César Chávez Elementary School is located on the western edge of our neighborhood.
Chavez is Madison's newest elementary school built in over thirty years.
Stone Meadows has access to natural and recreational resources.
Residents can play at the local parks (Apple Ridge, Maple Prairie, Sandstone, or Quarry Cove), bicycle on the Military Ridge State Park Trail, or take their dog to Badger Prairie Dog Park.
Neighborhood Association Meetings
Place: Hyvee Wine Tasting Room
Address: 2920 Fitchrona Rd
Date: Second Monday of odd months
Please contact the neighborhood association to confirm meeting date, location and time.
Officers:
President:
Tedd Mianowski
608-845-3944
president@smna.org
Vice President / Treasurer:
Kenneth Brown
608-209-0240
vice.president@smna.org
treasure@smna.org
Secretary:
Dan Gruett
608-957-9446
secretary@smna.org
Architecture Committee:
architecture@smna.org
Business Liason:
Jeff Statz
business@smna.org
Webmaster:
John Hughes
webmaster@smna.org
Block Captain:
Position needs to filled